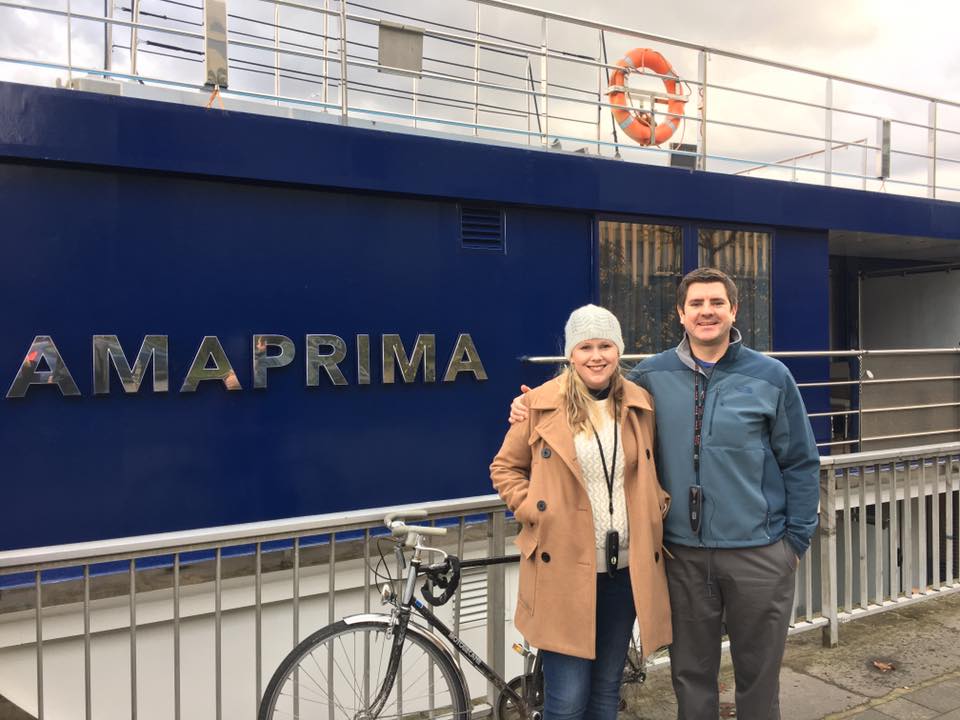 Owner, Lia Vincent, on a 7-night Rhine river cruise.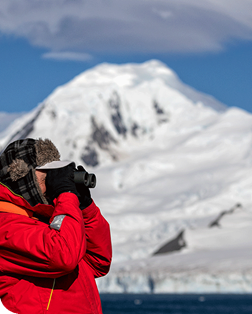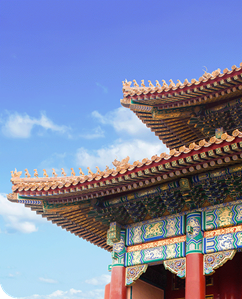 2024 GRAND VOYAGES!

Fuel your wanderlust with two Grand Voyages in 2024. For a limited time, you can reserve your pre-booking status before these inspiring itineraries open for sale to the public. Early booking amenities and offers are available too, so start making your plans today.

Deposits are $200 per person.
GRAND AMERICAS, AMAZON & ANTARCTICA
Jan 4, 2024 | 80 Days
Round Trip Miami
Seabourn Quest


From Panama to Antarctica — this voyage around South America encompasses Inca ruins, great world cities, colonial splendors and breathtaking natural wonders.
GRAND AUSTRALIA, ASIA & ALASKA
Feb 21, 2024 | 80 Days
Sydney to Vancouver
Seabourn Odyssey

This voyage checks off bucket list items including exploring the Great Barrier Reef, an in-depth tour of Japan, cruising Glacier Bay, and visits to Beijing, Hiroshima, Taiwan and more.
Current Promotions

New! Sail Away Event – through Aug. 31, 2022

Ø When? June 16-Aug. 31

Ø What? Your clients will enjoy a 2-category verandah upgrade and reduced deposit.

Ø Sailings: Select departures Fall 2022 – Summer 2023

Ø Promo: DD* Reduced Deposit; NB* Suite Upgrade

2-category Veranda Suite Upgrade
Reduced deposit
Ocean Fleet $500 PP deposit
Expedition Fleet $2000 pp deposit
Ø See Seabourn.com for Terms and Conditions.

10% Early Bonus Savings – now extended through Aug. 31, 2022!

Ø When? through Aug. 31, 2022

Ø What? Buy now and pay in full by Aug. 31, 2022 and save up to 10% on select sailings. Experience the best of extraordinary worlds on board the best at sea. We are pleased to offer a special 10% savings on select sailings for new and existing bookings when you book now and pay in full. Plan your next ultra-luxury getaway and save today.

Ø Sailings: Valid on select sailings departing Feb. 1, 2023 or later. Applicable to all Suite categories. See applicable sailing list in goseabourn.com and for full details. Offer is subject to availability, capacity controlled and may be modified or withdrawn at any time.


Seabourn Club Savings
Unlock an extra 5% savings on select voyages with your Seabourn Club membership

See Details for Seabourn Club Savings
Solo Travelers
Seabourn is pleased to offer solo travelers a reduced single supplement starting at only 50% above current fares on select voyages and in select suite categories.

Travel Advisor Appreciation Fares
Take advantage of these special rates to cruise with us — only offered to our travel partner!

See Details for Travel Advisor Appreciation Fares

Important Notices
Pricing now inclusive of Taxes, Fees & Port Expenses (TF & PE)
Seabourn will be launching advertised & Polar pricing inclusive of TF&PE starting Tuesday, September 14, 2021 for North America (US/CAD). Although most changes are systematic and won't cause much of a change, it will simplify the purchase process so TAs no longer have to add or quote TF&PE additionally!

Book with Confidence Policy

Voyages departing prior to March 31, 2023 Cancel up to 30 days prior and receive a 100% Future Cruise Credit* for your cancel fees. Or within 30 days of embarkation if you test positive or have been directly exposed to COVID-19. See Seabourn.com for full Terms and Conditions.

Seabourn's intimate luxury fleet is designed for those who delight in the thrill of discovery while indulging mind and body in the most lavish surroundings imaginable. All accommodations are spacious, ocean-view suites and include a staff committed to making your voyage unforgettable. All while transporting you to the most beautiful destinations on the planet.
"On Seabourn Cruises, you are enriched by the freedom of choice, authentic experience is the new currency of luxury! Can't wait for our next trip!"
- Sam T.
Seabourn'S ALL-INCLUSIVE LIFESTYLE INCLUDES:
All onboard gratuities
Complimentary beverages served throughout the ship – including fine wines, champagnes*, spirits, beer, bottled water, specialty coffees and soft drinks
In-room bar and refrigerator stocked with your preferred beverage selections
Complimentary 24-hour room service and in-suite dining** served course-by-course from The Restaurant
Complimentary guided excursions ashore on Seabourn Expeditions voyages
Complimentary transportation into town in most ports of call
*Certain services offered on Silver Origin are limited.
KEY Seabourn DISTINCTIONS:
Nearly one crew member for every guest - Amazing personalized service to every guest!
Intimate, luxury, small ships – extraordinary space per guest ratio
All ocean-view suites, over 85% with private verandas*
Butler service for all ships, all guests
Open-seating in The Restaurant – no assigned time, no assigned table
Alternative dining options – multiple venues
Enrichment lecturers, acclaimed chefs and destination consultants
Sophisticated entertainment from live music to production shows*
*Certain services offered on Silver Origin are limited.
Seabourns fleet of ultra-luxury, all-inclusive ships has recently returned to its worldwandering ways. They are once again carrying discerning travellers to near and far corners of the planet. Unlocking the secrets of some 900 destinations and countless cultures. Treating adventurous palates to exquisite cuisine. And satisfying guests' deep-seated cravings for authentic discovery. The nimble fleet and dedicated staff deliver a level of adventurous, all-inclusive luxury unrivalled in its generosity, quality, and creative innovation. No other line offers the ability to curate your travels to such personalised detail as Seabourn, yet none match the core value of our offerings – or the peace of mind and comfort.
Whether your next travel dream leads you to the balmy Caribbean, exotic South America, the South Pacific and land Down Under, or the polar wonderland of Antarctica, you'll find tempting itineraries on Seabourn. But demand is on the rise, and fares will soon follow.
Seabourn Cruises is set to take you deeper into the world than ever. We've worked hard to enrich every aspect of our offering with your experience in mind. We've launched three new ships – Silver Origin, Silver Moon, and Silver Dawn – for your comfort, we've extended our luxurious service from door to door for your convenience, and we've enhanced the hallmarks of luxury that make a Seabourn cruise so distinctive, so memorable.
The Ultra-Luxury difference
From that first welcome aboard to the final champagne toast goodbye, your Seabourn journey is designed to unfold with matchless perfection. Often unseen yet always seamless, our extraordinary level of personalised service leaves you free to more fully experience the joy of ocean travel. Making your voyage unforgettable means not only taking you to the most beautiful and remote destinations and experiences on the planet, but doing so in superlative comfort and elegance: butler service, included shore excursions, multiple restaurants and in-suite dining, and more. Our enhanced all-inclusive offering means you'll want for nothing as you travel deeper into the authentic beauty of the world.


Cuverville Island, Antarctica
A Zodiac on the pristine shore of Desroches Island, Seychelles
Wadi Rum, Jordan
ALL-SUITE, BUTLER-SERVICED ACCOMMODATIONS
Enjoy one of the highest space-per-guest ratios at sea, with finely appointed suites featuring expansive ocean views and indulgent amenities. And, speaking of indulgence, your butler will be happy to see to everything from unpacking luggage to serving breakfast on your private veranda, handling laundry requests, shining your shoes, and more.
RIGHT-SIZED FOR DISCOVERY
With ships ranging in size from 51 to 364 suites, Seabourn guests can find their ideal balance between grandeur and intimacy. The modest scale of our ships allows us to sail directly into the heart of the world's most prominent cities, and reach scores of tiny dots on the map that larger ships aren't able to access.
SHORESIDE ADVENTURE INCLUDED
Beyond the sundry luxuries to be savoured whilst on board, proper travel is about experiencing the destinations themselves. With that as our guiding principle, we include all shore excursions on Expedition voyages, while our Classic voyages include one shore excursion per port per day – your choice from a diverse range of options
AT HOME ON A GLOBAL SCALE
The world is a vast place, yet few of its destinations are unfamiliar to Seabourn. We're equally at home cruising the idyllic waters of the Caribbean as we are navigating the icy realms of Antarctica. Whether travelling deep into the Amazon, on expedition in Australia's Kimberley, or enjoying a leisure sail through tiny South Pacific Isles, we're proud to translate our deep local knowledge worldwide into authentically inspiring voyages.
INSIDER INSIGHTS & IMMERSIVE DISCOVERIES
Step away from the shallow and everyday – and into the depth and breadth of discovery, Seabourn style. Enjoy privileged access to sites both renowned and undiscovered. And take advantage of our comprehensive programme of expertled, small-group shore excursions designed to put you in the know, everywhere.
CHOOSING CAN BE A CHALLENGE
The pages that follow present destination-rich itineraries of varying lengths, with multiple overnights and extended stays with time to explore exactly as you wish. Pre- and post-cruise programmes invite even deeper discovery. It's enough temptation to make choosing a bit difficult – but that's a good problem to have, and we'd be happy to help you solve it.
THE Seabourn DIFFERENCE
Travel Deeper
We exist to unlock deeper travel experiences – allowing our guests to become immersed in the authentic beauty of their destinations. Our 2023/24 voyages hold a wealth of rare, personalised and unforgettable opportunities to see your world as never before.
Intimate Small Ships
Our ships are designed to give space to fewer, select travellers. Big on creature comforts and luxuries. Small enough to be personal and convivial – our ships range in size from 51 to 304 suites to ensure you find your perfect home from home.
Over 900 Destinations
We believe our multi-award-winning itineraries are the best in the world. And when we say the world, we mean it. In 2023/2024 our guests will visit over 900 destinations across all seven continents – from iconic cities to remote islands, from the tropical equator to the polar extremes, including over 60 maiden calls.
Superior Service
With nearly one member of staff for every guest, and a butler serving every suite, our service is legendary. Your devoted, discreet and experienced Seabourn onboard team take pride in playing a key role in your complete enjoyment of your journey.
Enriching Cuisine
Our gourmet excellence will always be a jewel in our crown. Our newest ships also offer destination-focused restaurants, bars and hands-on experiences – allowing you to enrich your travels with deep-dives into local culinary flavours, heritage and techniques.
IDYLLIC, EXOTIC & MAJESTIC
No other cruise line comes close to the ultra-luxury of Seabourn Cruises. Get ready to discover authentic beauty.
The brilliant blue waters of the Caribbean. The seductive allure of South America. The enchantment of Oceania and the mythical wilderness of Antarctica. Seabourn's fleet of intimate, all-suite ships is ready to escort you to treasured destinations in extraordinary comfort. As the most all-inclusive, ultra-luxury cruise line, your every wish is quietly anticipated and gracefully attended, whilst your curiosity is piqued with experiences revealing the world's authentic beauty. Journey deep into the Caribbean Sea to navigate boutique harbours in the Grenadines, Grenada, and beyond. Transit the Panama Canal to explore ecowonders and archaeological treasures from Ecuador to Peru. Come celebrate Carnival in Rio, dance the tango in Buenos Aires, and discover wineries and beaches in Uruguay. Whether you prefer a classic ocean voyage or a remote expedition cruise, your options include idyllic itineraries through the South Pacific, explorations of Indonesia and Papua New Guinea, and immersive journeys throughout. Australia – the Kimberley, Great Barrier Reef, Tasmania, and more; and New Zealand – Fiordland National Park, famed chardonnay vineyards, and legendary Māori culture. For the truly adventurous, Seabourn's explorations of Antarctica remain unmatched in terms of our expert insight and incomparable luxury. Ensuring your seamless comfort, all our expeditions now depart exclusively from Puerto Williams, Chile; or you can always choose to fly there instead with our Antarctica Bridge option. In just the last year, we have welcomed three brand new ships – Silver Moon, Silver Origin, and Silver Dawn – and we're preparing for the 2023 debut of our pioneering Silver Nova. Our all-inclusive offering is unrivalled with your choice of Door-to-Door or Port-to-Port fares, each providing exceptional value and flexibility. Across our entire fleet, our staff and crew are eager to welcome you aboard for an enriching, rewarding, and memorable experience. #
See the world's authentic beauty in bespoke luxury. Only with Seabourn.
WHAT'S INCLUDED
- Private executive transfers
- All-Inclusive pre/post cruise benefits
- Butler service in every suite
- Complimentary beverages and gourmet dining
- Gratuities and personalised service onboard
- Shore excursions and onboard lectures
- Airline Credits
THE Seabourn DIFFERENCE
Breeze through embarkation with white-glove service and a welcome flute of champagne. Enjoy breathtaking views from your suite and excursions from the world's most intriguing ports. That's the Seabourn difference.
SAIL THE WORLD WITH US
Our small luxury ships offer enormous opportunities for you to explore the 7 continents and over 900 fascinating destinations, more than any other cruise line.
START PLANNING THE ANTARCTICA VOYAGE OF A LIFETIME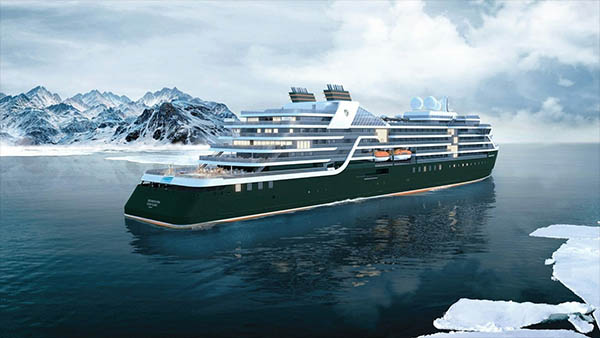 Skip the Drake Passage and fly in style to the seventh continent for a concentrated Antarctica experience. Our Antarctica Bridge programme flies you from Punta Arenas straight to King George Island, a mere two-hour sail from the Peninsula. There, board the ship and spend your expedition days fully immersed in Antarctica's otherworldly wonders.
FEATURED VOYAGES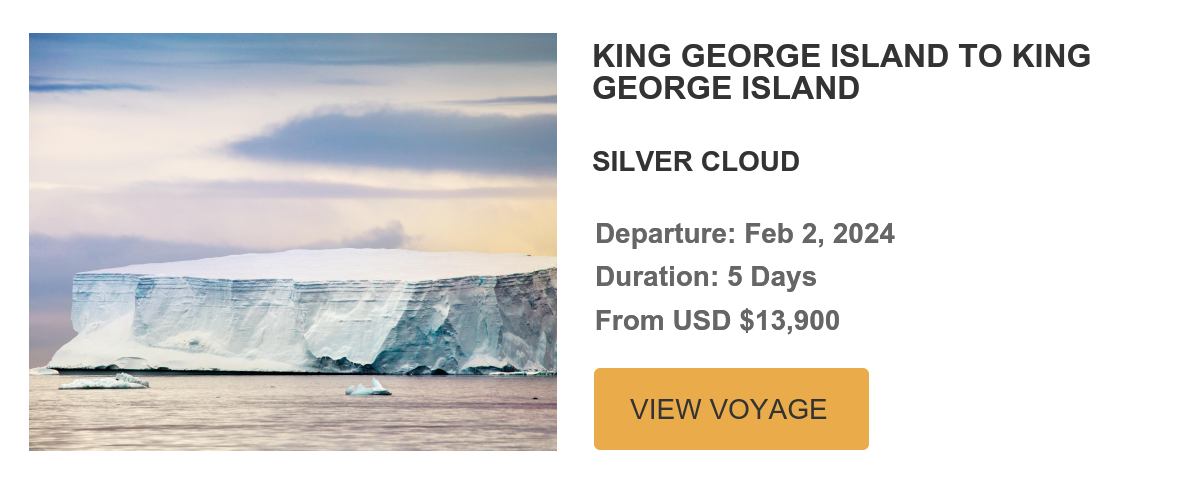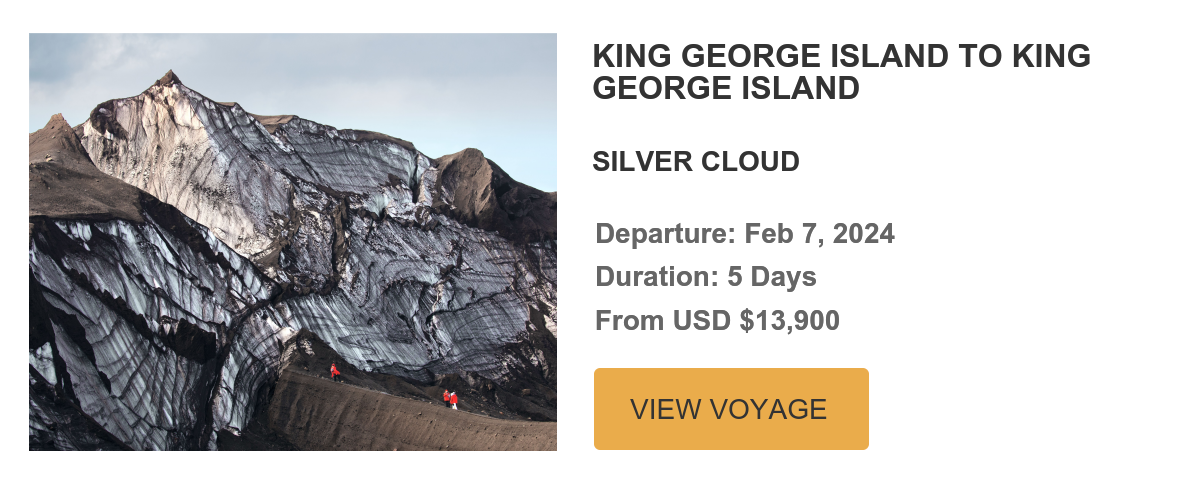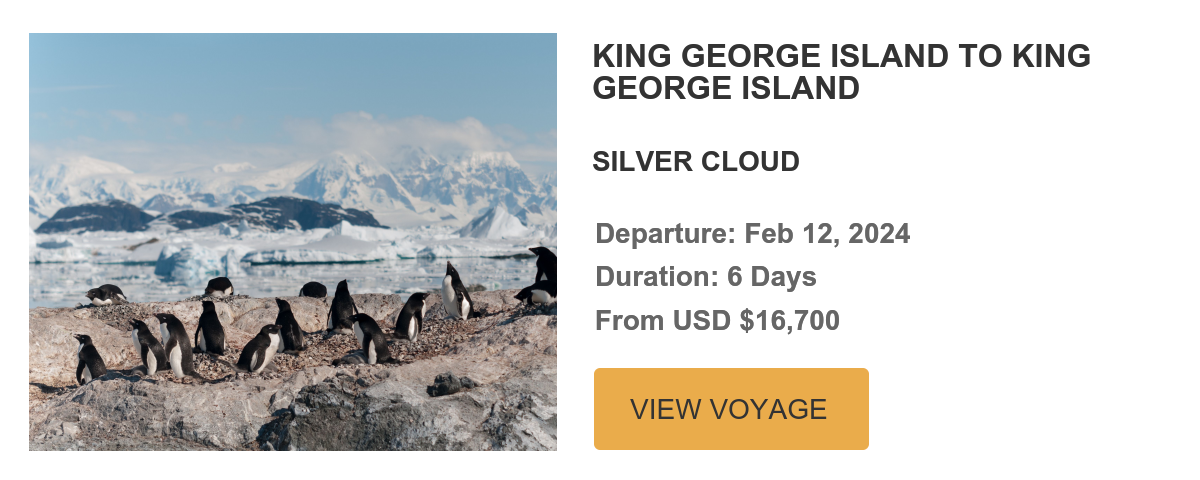 As our Antarctica Bridge programme has been so well received, we are happy to announce the addition of these new departures:

Antarctica Bridge All-Inclusive - Find a Cruise!

King George Island to King George Island
Silver Cloud
Departure: Feb 12, 2024
Duration: 6 Days
From $16,700

King George Island to King George Island
Silver Cloud
Departure: Feb 2, 2024
Duration: 5 Days
From $13,900

King George Island to King George Island
Silver Cloud
Departure: Feb 7, 2024
Duration: 5 Days
From 33,900

Seabourn's DOOR TO DOOR JOURNEY INCLUDES:
Private executive transfers (home-airport)
Economy Class Air/Business Class upgrades at reduced rates or Air Credit
Domestic flights when required
Pre- & post-cruise hotel night/s
Guided Zodiac, land & sea tours & expert lectures
Multiple restaurants, premium beverages & 24h room service
Butler service in every suite category
Expedition gear & unlimited Wi-Fi
ANTARCTICA BRIDGE'S FLY OPTION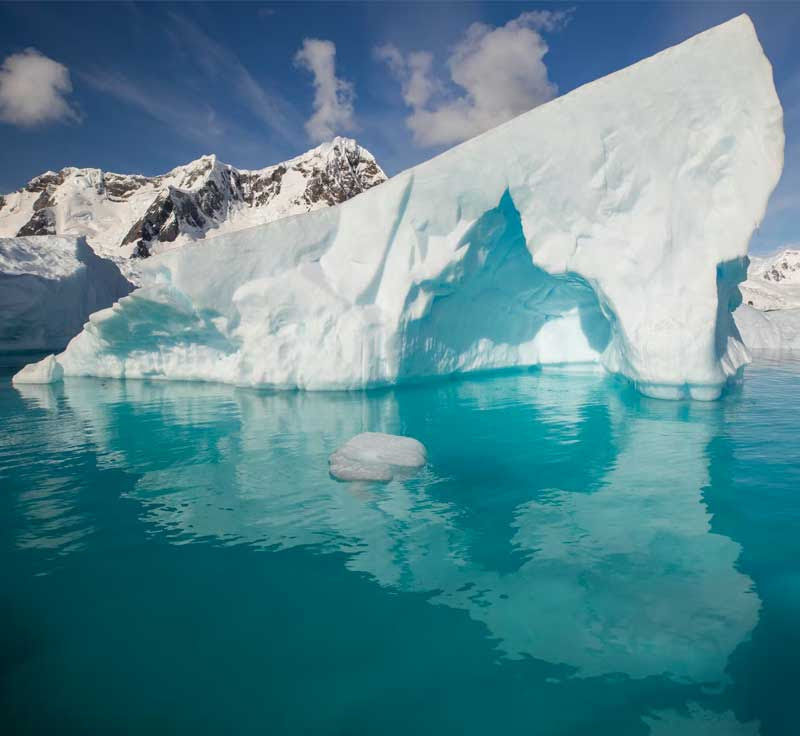 Antarctica has been described by many as an unforgettable, life-changing experience of stark, otherworldly surroundings and beguiling wildlife — which is why the experience should be accessible to more luxury travelers. With Antarctica Bridge, it is.