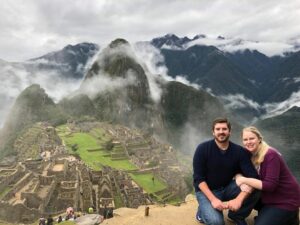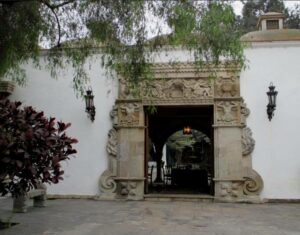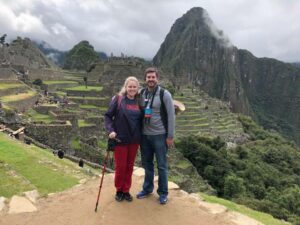 What's hot for Trafalgar Tours in 2022?
I personally have traveled with Trafalgar twice. Once to South America for their 7 night, Highlights of Peru itinerary, and once to Italy for a Tuscany focused itinerary.
The Tuscany was a girls trip with a group of travel advisors. Can I start off my saying that Tuscany with a group of friends exploring vineyards, making our own pasta and trying olives and drinking wine. It was magical. Peru was a couples trip. We traveled with 4 couples. An unexpected joy of Peru was no jet lag! They are just straight down, so we didn't need any time getting use to the time change…..Lima is on central time zone. They were such opposite styles of trips which makes me point out that Trafalgar has so much to offer.
Here's the inside scoop of what it's like to travel with Trafalgar and what is trending in 2022.
Who goes on a Trafalgar Tour?
One of the big questions we get as a Trafalgar Travel Agency is who goes on these tours? More specifically, "Is it all old people?". My quick answer is, "everyone" and let me explain. One the tours I have traveled on there are people of all ages. There are families traveling with their children (typically 10 has been the youngest), couples, girls trips, and retired people. It will 100% depend on the destination, time of year and length of tour. Younger people will have a stricter schedules so they are more drawn to the 7 – 10 night itineraries and families typically travel during school breaks.
Where does Trafalgar travel?
Trafalgar has tours all over the world. I especially loved our experience in Peru and it was my first time to the continent. I would love to go back and try their Argentina tour or Brazil. They have tours on 6 of the 7 continents.
Do I have any free time to explore on my own?
The short answer is, "YES!" but the long answer is, "It depends on the tour you select on how much go go go it is." There are some tours where you are doing a night or two in each city and your are covering multiple countries in 10 days. These ones will still have some free time but it will be more limited. The itinerary we did in Peru had for example an included walking tour of Machu Picchu but then the rest of the day we could explore on our town. In Italy we had a walking tour of Pisa for example and then an hour to explore and take funny pictures. We had the same experience with like at The Vatican for example. There was a tour but then free time. It was always a good balance where I would have wanted the tour either way and free time for pictures and to grab a drink but not too much where we just sit around and wonder what's next. In both destinations we had most evenings free where we would dine in local restaurants. The guide with us would give us recommendations which were always so spot on.
What kind of hotels can I expect?
Trafalgar uses 3.5 and 4 star hotels with good locations where you will be able to easily walk to restaurants. I have appreciated this so much. They include breakfast at the hotels. They are a middle of the line guided tour company so I did not see as many recognizable American brands like Hilton or Marriott. We stayed in local hotels and some with some quirkiness. We laughed so hard at the one in Rome that one of the rooms had the shower in the bedroom instead of the bathroom. In Peru we stayed at the base of Machu Picchu in the town. The hotel was trendy and in a perfect location where we walked out to the pedestrian street with all the cute shops and restaurants. We ate dinner and then wandered and found am open air café that we played cards until late. All the hotels have been clean and were ones I would stay in again. Your guide stays at the same hotel with you.
How much does a Trafalgar Tour cost?
The cost of a Trafalgar tour can vary based on destination and what is included. To give you more of a specific example, Best of Italy is 13 days for $2925 per person, based on double occupancy. Highlights of Peru which is the tour I did starts at $2425 per person, based on double occupancy. This one has a higher daily average rate since it also includes inner country flights. For the best pricing consider traveling not during peak season like when kids are on a school break or over a holiday.
Are there any discounts I can get for a Trafalgar Tour?
Yes! Trafalgar offers a generous 10% savings for paying in full a minimum of 6 months prior to your tour date. They also offer Last Minute Deals so they can fill tours with a few spaces here or there. This is perfect for those with a flexible schedule.
How do they handle Covid testing?
Do you have uncertainty about navigating the ever changing protocols? Trafalgar is a great opportunity to travel with ease. Are you worried about where you will test to return to the United States? Trafalgar sets all of this up for the guests and makes it where it doesn't become an entire day interruption. They have boots on the ground in each destination they have tours which makes all the changes something they adapt to and incorporate to make the vacation experience still top notch.
What is Costsaver? Is it the same as Trafalgar?
Costsaver Tours are part of the same corporation as Trafalgar Tours. They use the same coaches but there are a few differences. Costsaver is going to be more of a sold 3 star hotel experience. Of course still clean but just more basic and likely to not have extra services like a pool or spa. While Trafalgar includes a lot of touring and typically several meals during the tour, Costsaver is going to be very basic tours and more free time. They will have optional tours you can purchase ala carte. This is a great option for someone that has traveled but likes the idea of not having to coordinate travel between cities so they can maximize their vacation. Costsaver tours still have the same knowledgeable guides. A Costsaver guest is the all about the destination and not as much about the perks of luxury hotels and dinners.
What is Insight Vacations?
Insight is also part of the Trafalgar family. They are going to be a step up from Trafalgar. They are going to be in hotels in city center locations with brands you will likely recognize. I have toured with Insight as well and for example we stayed at the Hilton in Vienna. It was a great location. The big thing that stands out with Insight Vacation is they take out seats on the coach to give everyone more leg room. They are going to have 40 seats instead of 48 – 50 which makes me call Insight "Premium Economy" of guided touring. They also have more inclusions. For example if you are in Venice, you are going to do a gondola ride. This would be an optional add on for a Trafalgar Tour or Costsaver. This is included with Insight Vacations. One sect of their touring companies that I am kind of obsessed with is the Country Roads tours. This takes you on the scenic path. Country Roads of Italy or Country Roads of France for example will have you staying in quaint towns and is all about the scenery and immersion. They are going to include things like a cooking class or wine tasting. It's a great option after you have checked of the big cities and want to go back and experience the countryside.
What is hot for 2022?
With tourism in Europe returning before some of the other continents, it has quickly become the front runner for Trafalgar Tours. There are pandemic restrictions being lifted right and left which has allowed for more ease of travel. Trafalgar has also curated more tours in the United States. This might be something you would say, "why when there's not a language barrier? I could just do it myself so why?" These are valid questions but think of it this way…….you could just sit back and relax and be on vacation. This is something when we have traveled with groups they point out loving about guided touring. We don't have to think about how to get to the next place or where we will eat dinner or even what are we looking at. We are being taken around by a guide who will help us with all of those things so we can just soak it all in.
Are vaccines required for Trafalfar, Costsaver and Insight Vacations?
As of April 23, 2022 when I am writing this blog article yes they are required. They also will go off of the countries policies so for Peru for example they are also requiring a booster if applicable since it's a requirement of their country. We are hoping these requirements will loosen in 2023 to allow for more travelers to experience their wonderful tours.
We have travel agents who specialize in Trafalgar trips and tours.
Trafalgar
is an expert covering tours in all 7 continents and over 300 trips.
Our owner, Lia Vincent, has experienced Trafalgar first hand having gone on the Highlights of Peru trip. This is an 8-day guided tour of Peru, covering from Lima to Machu Picchu. Lia has also booked several clients with Trafalgar!
What the tour company has to say about this tour we chose
: Our most popular holiday in Peru, the ancient allure of Machu Picchu and Sacred Valley meet the buzz and bustle of Lima and Cusco in time spent with Insiders who share personal tales of their beloved country.
You'll enjoy Insider moments like… learning to weave in the Sacred Valley, watching centuries-old dyeing techniques, passed from mother to daughter, as the weavers keep their Andean traditions alive. Meeting the curator of the world's largest private collection of pre-Columbian art at the Larco Museum in Lima. And hearing tales of Dr. Diez Canseco's illustrious ancestors, as you tour his mansion, a traditional country house, and settle down to a home-cooked Peruvian meal with him.
View more about Lia on
her profile
.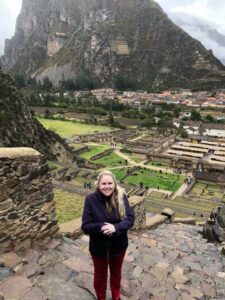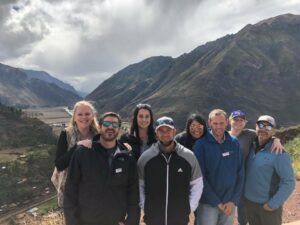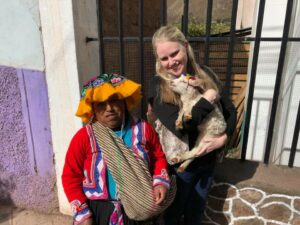 Trafalgar travel agents near me
Trafalgar tours, 2022 information
Trafalgar travel agency near me
Founded in 1947, Trafalgar Tours is a leading escorted tour operator. They are based in Geneva Switzerland and London, England. They maintain 8 regional offices.
---