Rocky Mountaineer Train-Canadian Rockies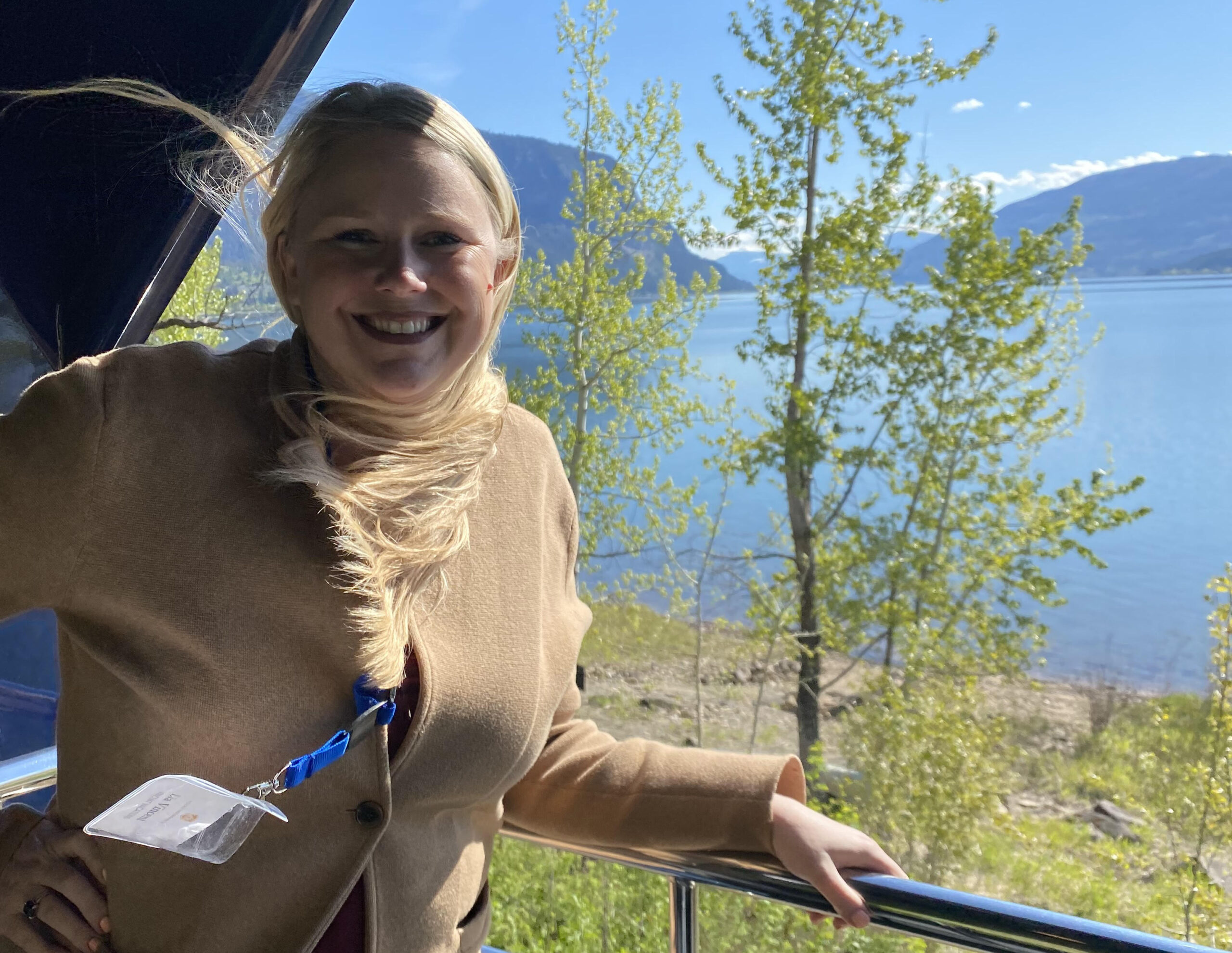 A luxury train, beautiful scenery, top notch service….these are all the things I think about when I think how can I start this blog about the experience of Rocky Mountaineer.

My journey started in Vancouver, BC. We flew into Vancouver 2 days prior to boarding the train so we could have a full day of experiencing Vancouver.

In Vancouver I realized Vancouver could be a vacation in itself. There's so much to do. We crammed in as much as possible and I can't wait to go back.

We had lunch at Granville Island. No one lives on the island and it's right off the city connected by a bridge. There are a lot of little boutiques and souvenir shops. There's one hotel in the island called The Granville Hotel with a nice water and city view.
We were obsessed with the Public Market. It was a farmer's market, food court, bakery, and craft show all under one roof. I could have spent hours wandering through all the booths and admiring all the produce and baked goods.

We spent the afternoon at Capilano Suspension Bridge. I had been to Capilano in 1999 so it was neat seeing how they have added some experiences. The Capilano Suspension Bridge was built in 1889 for workers to use to get across the canyon. It started to become famous where people came on their days off to walk the bridge. By 1910 it become so popular they started to charge admission.
In the last 20 years they have added treetop bridges that are smaller Suspension bridges connecting between trees. I hope you include Capilano on your pre-train itinerary.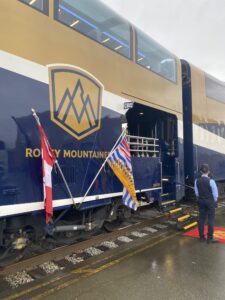 It was finally train day. They picked us up from our hotel that was all part of the Rocky Mountaineer package. The train station is about 10 minutes from downtown.
Boarding the train was easy. They have a few out to assist where to go and a man playing the bagpipes. It really added to the excitement.
We were lucky to be in Gold Leaf Service. Let me explain the differences.
Silver -
You have all 1 level. This actually would be a great choice if you're really tall like over 6'5 since the Gold one is a split car.
You still have great views with the big windows that go up to the ceiling like the Gold always has had.
Meals are all included. You eat your meals at your seat. A tray comes down from the seat back in front of you like an airplane. It's an oversized tray compared to airline travel. There's a small outdoor platform to go outside.
Silver has a little more limited menu but it's still all cooked to order. The drink menu is all the same and included.

Here's my experience in Gold.
You have assigned seats. The seats are a plush leather. They recline, heat and have a have a leg rest. If you're traveling with another couple one thing with that is so fun about Gold is your can rotate your seats to face each other and play cards. I loved this option.
There's an additional staff member than in silver to cater to Gold passengers. They start alcoholic drink service at 10AM with a wide variety of wine, beer, sodas and juices.
We boarded early and they released half the car to go downstairs for breakfast. Those on second seating were served coffee and pastries.
Breakfast was cooked to order. They had a menu with a lot of options and could accommodate food allergies and preferences. Downstairs still has great big windows so you get to enjoy the scenery while eating. I loved the skillet that I ended up ordering both mornings. Everyone with me had different things and it all looked wonderful.
It worked this same way with lunch and we had fun switching up our dining table mates to meet new people.
The Gold car has an extended outdoor area and we spent a lot of time enjoying the fresh air and seeing the scenery go by. The attendants would let us know about things coming up so we could get our cameras ready. They talked to other trains and even told us when they knew some bears were going to be seen. We saw a white bear which the staff said was so rare and it was their first time seeing one.
Our halfway stop was in Kamloops which is a small town. They warned us the hotels in Kamloops are really basic so it was fine. We arrived at the train station and they had motor coaches waiting for us for a quick 5 minute drive over to the hotel. They had our suitcases already in our rooms since they came ahead in a truck. Smart! It made it so easy and had our room keys pre-programmed to pass out. I love little details like this.
Our second day on the train came early but I felt lucky since my body was still on central time zone so getting up early didn't feel as early as the weather coasters. The scenery just got better and better. The train meals changed and they had little surprises of treats and a wine and cheese before arriving in Banff.
My number 1 trip for this journey is to do west to east if at all possible. It really builds on the beauty of the scenery.

What a gem Banff is. I kept saying how much I loved Banff and couldn't wait to come back while I was there and hadn't even left yet. The town of Banff was bustling with all sorts of shops and restaurants. The Fairmont Banff Springs is just up the hill from the town of Banff and such an easy walk but with a idyllic setting in the trees with a stream behind it. There were elk in the grass around the hotel. It really set the scene. There are restaurants, a great lounge, spa and more. I loved the igloo option for a special event. What a picture perfect option for an anniversary dinner or a proposal.

Rocky Mountaineer was founded in 1990. We could tell their employees love what they do. I think this is huge. For nature, scenery and train enthusiasts this trip is a must.
They also have expanded to a USA route from Colorado to Moab, Utah.

Does this vacation sound right up your alley? 2022 is almost sold out and we are booking for 2023. My office would love to help you. Please email me or give us a call.
Lia Vincent
Rocky Mountaineer Train-Canadian Rockies
OKC Travel Agent Near Me
Share :

I have been in the travel industry since 2002. I manage our store front travel agencies and locations for All Inclusive Weddings - Destination Weddings & Honeymoons , Vincent Magical Vacations - Disney , Vincent Events - Groups & Corporate Incentive Trips , & Vincent Vacations ! I also manage our large group of independent travel agents, who work from home.  I LOVE helping couples with their Destination Weddings! I planned my own wedding in Puerto Vallarta, Mexico in 2010 and it's been a passion ever since. My husband and I also have renewed our vows in Turks and Caicos which is a favorit... Read More >>>

An expert destination wedding travel agent near me with five star luxury travel packages with a luxury travel company, Vincent Vacations.