Begin Your Travel Experience With Us!
With a seasoned travel agent ready to assist you, the natural wonders and distinct culture of traveling abroad are yours to discover! Explore colonial cities, ancient ruins, hidden cenotes, and architectural treasures, and create a new experience every time you visit. In the Yucatan Peninsula in Mexico, discover a fascinating blend of sun, culture, and archaeological ruins, and astounding beauty. In Central Mexico, discover charming UNESCO World Heritage colonial cities. The diversities are fascinating. From golden sand beaches and jungle forests of the Pacific Coast to the Land's End and endless horizons in the Sea of Cortes. We can help you arrange a vacation you will not soon forget.
Unspoiled, unhurried and uncrowded. Fiji is the land of happiness in the heart of the South Pacific, blessed with over 300 tropical islands. Here you'll find classic images of an island paradise - turquoise lagoons, sun-drenched beaches and swaying palm trees.
But it's the people that make the islands so special and the hospitality is warm and welcoming. Take time to mingle with the locals and relax. You will enjoy their genuine nature. Experience the true Bahamas. From its pristine naturan beauty to a host of water and land sports. We can help you plan an unforgettable vacation, whether you are seeking a romantic escape or an activity-filled stay. Everyday you'll find something new to discover.
The Caribbean and Bermuda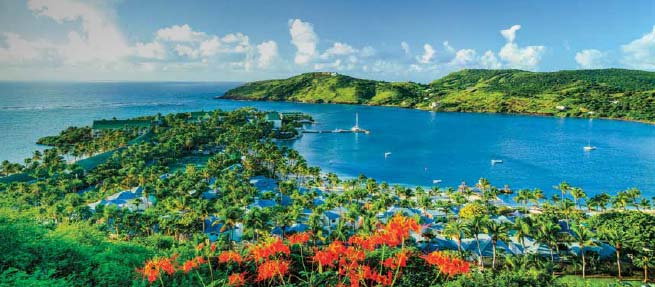 Like sparking jewels in crystal-clear waters, the islands of the Caribbean and Bermuda beckon travelers to discover the natural beauty and unique culture each one has to offer. Explore World Heritage sites, spectacular beaches, tropical rainforests, and more. The Caribbean and Bermuda is where all the senses come to life. See the beauty of the natural landscapes. Hear the rhythm of Caribbean music. Smell the fragrances of tropical flowers, and taste the diversity of the Caribbean cuisine. Whether you seek an adventure-filled vacation or a leisure stay soaking in the local culture, a memorable vacation awaits. Let us make it easy and help you arrange your perfect experience on the island or islands of your choice.
The Moorings Luxury Crewed Yacht Vacations
Explore the Caribbean islands onboard a private crewed catamaran, for up to 10 of your closest friends or family in five cabins. Relax as your captain navigate over turquoise waters from one exotic port to the next, while your chef prepares delectable meals to enjoy onboard or on a secluded beach.
Five Exciting Destinations
British Virgin Islands
Grenada
Saint Lucia
St. Martin & St. Maarten
St. Thomas, USVI
Your journey embarks from one of five Moorings' bases, on a luxury crewed catamaran, like a fabulous floating resort, with a dedicated crew providing the utmost in personalized service onboard. At each tranquil anchorage, you will have the chance to explore the culture, shop in charming boutiques, sample local delicacies, or stroll on a white-sand beach of a new island. Each day is a new discovery of experiences you won't soon forget.
REPUBLIC OF MALDIVES & REPUBLIC OF SEYCHELLES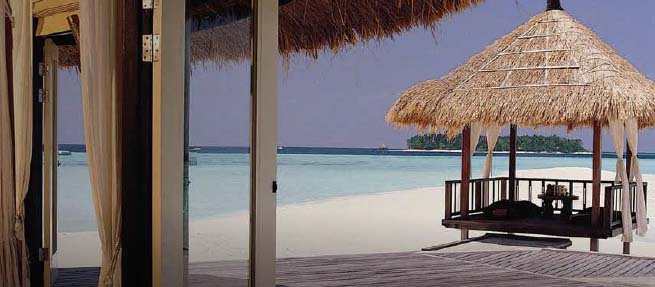 From stunning seascapes to rare wildlife and granite and coral islands, your experience in the Maldives or Seychelles will be as unforgettable as these worlds-away locations in the Indian Ocean.
Comprising 26 atolls and 1,190 islands dating back 2,500 years, the Republic of Maldives is a serene masterpiece in natural landscaping and home to one of the world's most diverse underwater marine life. Its capital, Malé, is easily reached by ferry from the main airport.
The Republic of Seychelles is a 115-island archipelago of legendary and unspoiled beauty, between 4º and 10º south of the equator. The inner islands cluster around the islands of Mahé, Praslin, and La Digue, and are renowned for their granite formations and stunning beaches.
Cruise In The Maldives - Four Seasons Explorer Cruise
A Day Aboard The Four Seasons Explorer
Morning - Prepare for a two-tank dive, exploring a vibrant thila (submerged reef) and an overhang full of soft corals. Nondivers can snorkel or relax on board.
Afternoon - Set anchor at a virgin island. Divers can explore the open waters on a channel dive; nondivers can water-ski or tube in the lagoon. Later, enjoy a relaxing massage on the beach.
Evening - Take a fishing trip aboard a local dhoni boat and enjoy sunset at sea with cocktails. Set anchor and savor a BBQ dinner on a beautiful sandbank. See video highlights of the day with after-dinner drinks in the lounge.
Cruises and Inclusions -
All cruise packages aboard Four Seasons Explorer include:
• Seaplane and speedboat transfers
• Diving and recreational activities
• Full-board meals, bottled water, and nonalcoholic
beverages for up to two • Fresh fruit in your stateroom upon arrival
• Luxurious accommodations onboard

Northward Cruise: Three Nights -
Sail from Four Seasons Resort Maldives at Kuda Huraa to Four Seasons Resort Maldives at Landaa Giraavaru via the Malé and Baa atolls.
Southward Cruise: Four Nights -
Discover four secluded atolls between Four Seasons Resort Maldives at Landaa Giraavaru and Four Seasons Resort Maldives at Kuda Huraa.
Circuit Cruise: Seven Nights -
Visit five atolls on the ultimate dive cruise.